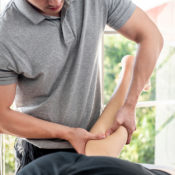 A massage therapy education is a great option for someone who is passionate about the human body and helping others. Attending massage school can also adequately complement your existing career if you are already a registered nurse, or a yoga or fitness instructor. If you are looking to start a career in massage therapy, understanding the requirements will help you make an informed choice and prepare adequately. To help you out below is a simple guide on what you need to become a massage therapist in Washington State.
Complete Your Massage School Training & Take the Licensing Exam
The first step to becoming a massage therapist is acquiring the necessary training and meeting the required education requirements.  To do so, you need you to enroll in a massage school and complete at least 500 hours of training. The hours cover all the core areas with massage theory and practice taking the most time as you will need to complete 265 hours of instruction. Typically, full training will take you a least six months to complete at your local massage therapy school.  Below is a simple breakdown of the courses and their hours that will contribute to your journey of becoming a massage therapist.
130 hours of anatomy, physiology, and kinesiology. (A minimum of 40 hours in these hours focus on kinesiology)
50 hours of pathology
55 hours of clinical and business practice, including human behavior, record-keeping, hygiene, and ethics, as well as applicable laws.
265 hour of Massage Theory & Practice
After earning your certificate or diploma in massage therapy, you can then apply to take a national examination so you can be licensed. Upon passing the licensing exam offered by the Federation of State Massage Therapy Boards (FSMTB) you will then be eligible to apply for a massage therapy license.
Apply for a License
After completing your training, you will require a license for you to become a fully-fledged massage therapist. To do this, you need to send your massage application to the Board of Massage for approval after passing the national exam. Other licensing requirements include HIV/AIDs 4-hour training, First Aid and CPR cards, as well as application and initial fees. The board will then verify your request and issue you a massage license for you to start your practice. Since the license expires at your birthday, you can renew it up to 90 days before expiry.
Get a Job
Once your massage license application is approved, and upon receiving your massage therapy license in the mail, you are free to look for a job and offer massage service. According to the Bureau of Labor Statistics, the employment of massage therapists will grow by 22% between 2018 and 2028. Some of the places you can find work include spas, fitness centers, resorts, and medical facilities. You can also utilize the knowledge and skills you've earned to start your own massage business or offer mobile massage services by attending to clients in their homes. This way, you get to experience the business side of massage therapy. Working in a medical institution, spa, or salon, on the other hand, enables you to acquire on-the-job training from more experienced colleagues. It also gives you access to a ready market and clientele without having to go through the hassle of marketing your services, as is the case with running a business.
Meet Continuing Education Requirements
Earning extra certifications not only allows you to improve your career prospects but is also a requirement for maintaining your license. As a massage therapist in Washington State, you will need to complete 24 hours of continuing education credits, which must include a minimum of 8 hours of direct massage skills training and a minimum of 4 hours of communication, professional ethics, or review of state laws and regulations.  You must also complete a minimum of 2-hours review of professional roles and boundaries.
For more information about starting your journey towards a career in massage therapy, contact our Seattle Clinical Massage School admission department today!
If you are looking for another great Seattle massage school option in Seattle, check out our partner massage school Northwest Academy.